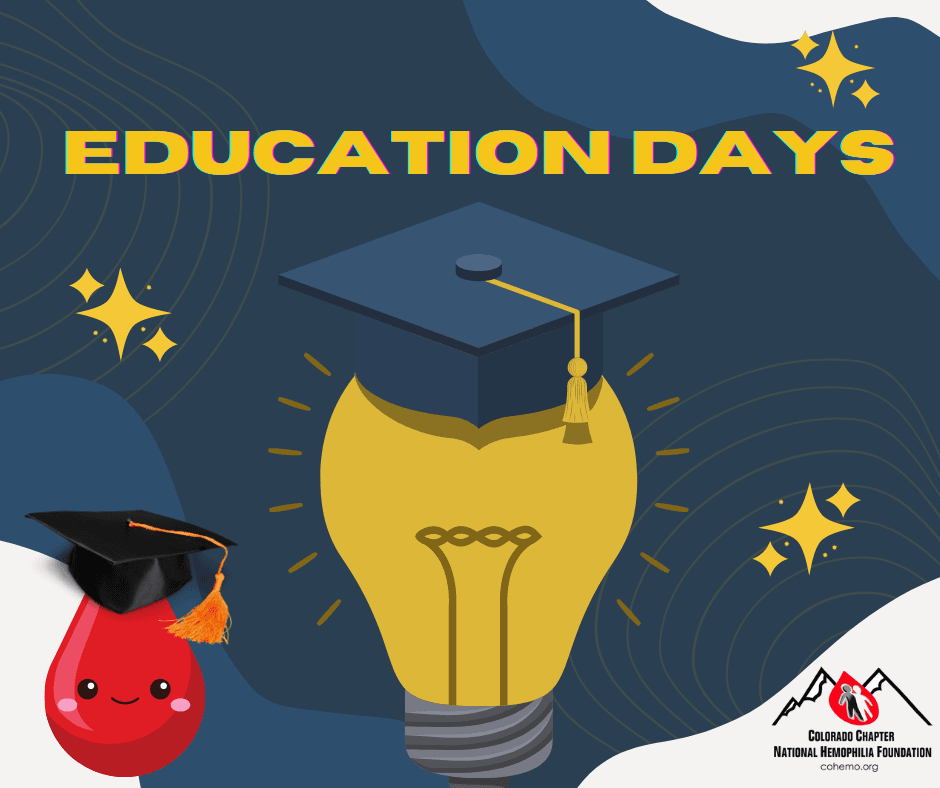 Due to public safety concerns, the Colorado Chapter of NHF has decided to not host a weekend overnight conference. Instead, we are excited to announce that Education Empowerment Days will consist of a week-long mix of in-person and virtual learning and connection opportunities. The Education Days Series will take place April 24-29, followed by a single-day event in the fall, and we will end with a Winter Celebration in November or December. We strive to bring a mix of virtual, hybrid, and in-person activities to promote connectivity, education, and bleeding disorders awareness.
*Please note that all scheduled events are subject to change with little notice due to the ever-changing pandemic. Changes may include, but are not limited to, different masking, vaccination or testing requirements, canceling in-person events in favor of virtual events, change in sponsors or programming, and limiting attendance to in-person events. 
COVID GUIDELINES: NHF and national chapter face-to-face meetings and events (indoors and outdoors) will require that all attendees, including NHF staff and sponsors age 5 and older (on the first day of any event), show proof of being fully vaccinated or a negative COVID-19 PCR test within 72 hours of attending the event.

If you are not vaccinated you must show a negative PCR test for EACH SEPARATE EVENT during the spring series

(i.e. testing within 72 hours of 4/24 and again for 4/28, and 4/29). If you attend the event without meeting these requirements you may be denied entry and/or restricted from future chapter event participation.
---
BLOOMING FOR COMMUNITY, SUNDAY APRIL 24 3-7PM 
WASHINGTON PARK BOATHOUSE  
Blooming for Community is an in-person event for individuals and families alike. Join us at the Washington Park Boathouse on Sunday, April 24th to blossom with your bleeding disorders community. Check-in at the registration table located in front of the Boathouse at 3:00 PM to receive your name badge and welcome goodies! Throughout the evening we invite all to enjoy activity areas around such as First Aid Survival with Trails to Healthy Living, yoga on the lawn, arts and crafts, or yard games. Before Mac Shack Food Truck arrives, join us inside the Boathouse for a series of short updates, fun activities, and surprises! We will live stream the program through FaceBook Live or Zoom.
TEEN OUTING – SUNDAY, APRIL 24, 12-3 PM 
For teens ages 13 – 17, take on an adventure with Trails to Healthy Living and learn first aid survival by making your own First Aid Kit. Hands-on lunch, creativity, and fun is in store! Trails to Healthy Living is a wellness program designed and led by two hemophiliacs that is intended to teach participants crucial lifestyle skills that align them with their own trail towards healthy living. Registered participants will be followed up with for further information and waivers.  
Off-site adventures: 12:00 – 3:00 PM  
Drop off/Pick up: Washington Park 
B PREPARED! WITH BACKPACKS AND BLEEDERS PROGRAM WEDNESDAY, APRIL 27  VIA ZOOM AT 6:00 PM 
B+B Prepared – join us for this virtual session as we TRAILBLAZE through the Leave No Trace 7 Principals. All trailblazers need to stay prepared at all costs, join us for this virtual session to learn new wilderness survival tips and tricks! This 60-minute session will include hands on activity turning a t-shirt into a backpack, discussion over the Leave No Trace 7 Principals, and challenges for all to enjoy. Each registered household will receive a DIY box prior to April 27th that will include a t-shirt, Leave No Trace 7 Principals Front Range Guide, and a sticker, plus a $50 Grub Hub e-gift card for attending the entire presentation (1 per household, received the morning after attending the event).
VIRTUAL CONNECTIONS, COFFEE, AND CONVERSATIONS WEDNESDAY, APRIL 27 VIA ZOOM 7:30 PM 
New parents to the bleeding disorder community? Join us for this virtual event where you will have the opportunity to connect with other parents in the community and share similar experiences. Board and Volunteer lead, Kim Nicks will kick off this session by sharing her experiences as a mother of a son with hemophilia. This is a safe space to share experiences or gather insight into what you may be going through. Targeted towards new parents in the bleeding disorder community. Participants who attend the entire event are eligible to receive a $10 Einstein's e-gift card (1 per household, received the morning after attending the event).
IN-PERSON DINNER PROGRAM on THURSDAY, APRIL 28TH 6:30 PM 
Maggiano's DTC 6:30 – 8:30 PM 
7401 S Clinton St, Englewood, CO 80112
Gene Therapy Basics with Bio-Marin presented in ENGLISH 
Dinner Presentation with Takeda presented in SPANISH 
FINAL NIGHT CELEBRATION FRIDAY, APRIL 29 5pm Pre-game dinner; 6:40pm game time.
ROCKIES vs CINCINNATI BASEBALL GAME at COORS STADIUM 
Celebrate with the bleeding disorders community on the final night of the Spring Series at the famous Coors Stadium! Join us at 5pm for a pre-game dinner followed by a brief session from HTC physical therapist Nikki Clark over acute and chronic pain in the hemophilia population and ways to use KT tape for pain intervention. Can't make it to the stadium by 5? That's okay! During registration, you'll have the opportunity to opt-into the pre-game activity so if you can't make it you can just enjoy a Friday night game against Colorado's beloved Rockies and the Cincinnati Reds! Included with registration is (1) entry ticket. Parking and game-time snacks are not included. To receive a baseball ticket individuals must attend 1 of the 4 events listed above. Tickets will be distributed virtually and registered attendees will need to download an app on their phone to access the tickets. More information will be sent out closer to the event date.
We hope that you can join us for The Education Empowerment Days Spring Series throughout April 24-29 for Blooming for Community!  
---
Join the Goose Chase Challenge!
How to play: 
This game concluded 4/29/2022

3 prizes will be announced the week of 5/2/2022 and are limited to one per household. Prizes will be awarded to the top-performing individual per team, so complete those challenges quickly! You must create a GooseChase account and use an identifiable user name to be eligible to be recognized for a prize.