You'll always know what's going on with our organization.
Just bookmark this page and check back often for the latest programs and events.
---
As the State of Colorado starts to regain a sense of normalcy, the Colorado Chapter would like to remind all community members of the safety protocols we have as we return to in-person events. Please visit our COVID-19 Resource Page for details.
Update October 1, 2021
NHF and national chapter face-to-face meetings and events (indoors and outdoors) will require that all attendees, including NHF staff and sponsors aged 12 and older, show proof of being fully vaccinated or a negative COVID-19 PCR test within 72 hours of attending the event. Additionally, for indoor events, all attendees must wear masks regardless of vaccination status. NHF strongly recommends that all attendees wear masks at outdoor events as well, but hosts should follow the strictest guidelines – either CDC, local, regional, or state guidelines.
---
---
Stakeholders within the bleeding disorder community are invited to join us as we dive into the We will share information for discussions on state and federal policy issues and trends that currently are, or may in the future, impact the bleeding disorders community. We will reflect on current healthcare concerns, consider long-term priorities, and develop strategies with action plans that ensure continued access to quality, patient-centered treatment care remains available for our rare patient population. A look at the current health disparities and inequality in the bleeding disorders community will also be explored. We would be honored if you would join us!
Intersted in being added to the invitation list? Complete the form below!
Join Dr. Wang and the HTC staff on November 17th for an in-depth look at the newest COVID information available for the bleeding disorders community, a Q&A session, and tips and tricks to stay healthy this holiday season.
Attendees will receive a $50 GrubHub giftcard (one per household).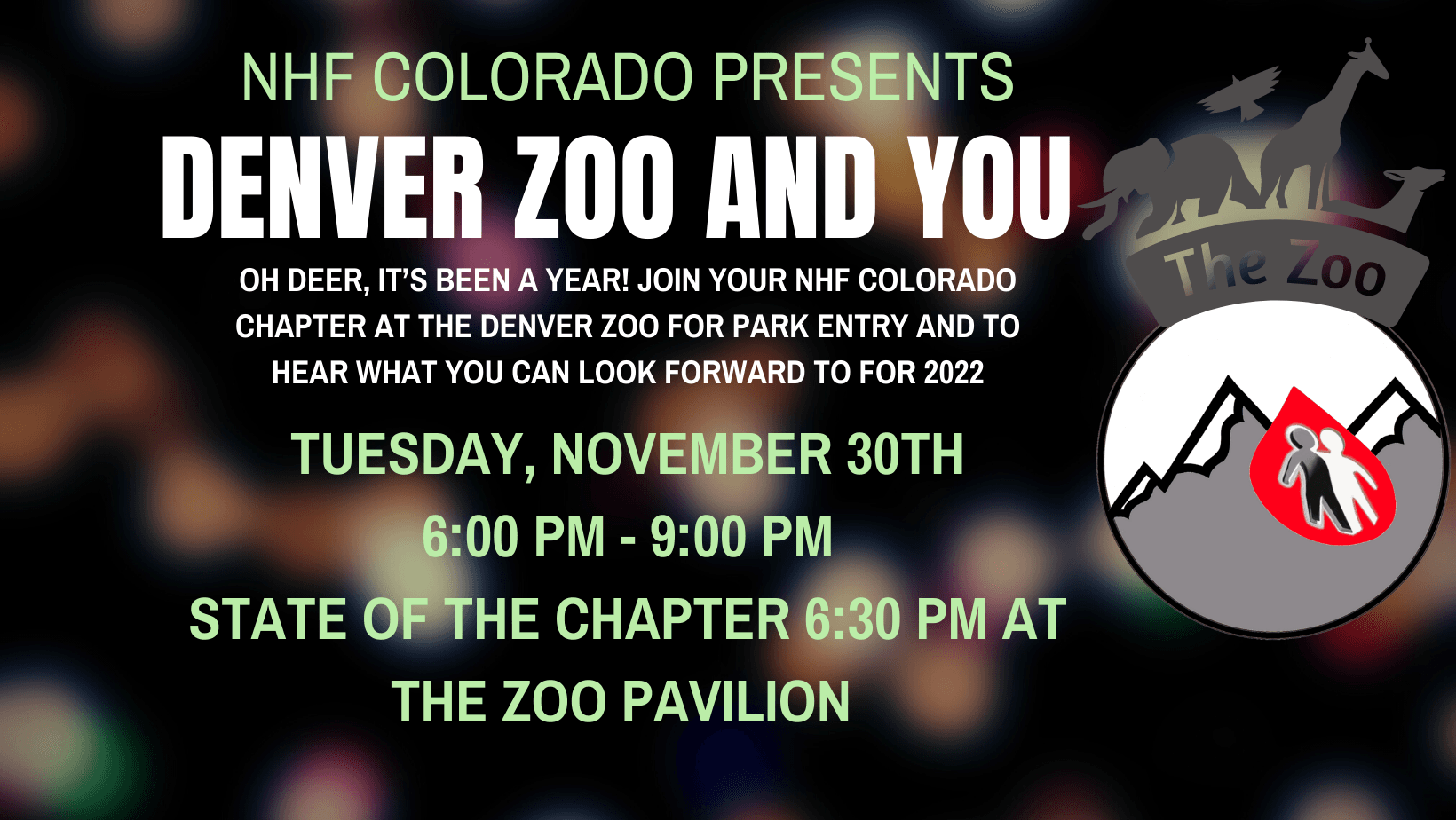 You are invited to bypass the excruciatingly long line and parking headache and join NHF Colorado for a semi-private viewing of the Denver Zoo Lights! In lieu of the overnight Education Empowerment Days, NHF Colorado is excited to offer this fun opportunity to connect with your fellow community. Join us for an opportunity to listen and provide feedback to future chapter plans, and enjoy the fun scenes of the Denver Zoo Lights. This event is absolutely FREE OF CHARGE to all community members, and will take place exclusively outdoors and with social distancing and mask protocols in place to maximize safety.
The deadline to register is Thursday, November 18th so ACT FAST AND REGISTER TODAY!
All community members and those in their households are welcome to attend at no charge. All attendees will be required to show proof of being fully vaccinated or a negative COVID-19 PCR test within 72 hours of attending the event.
---