Utilize the links below, or the top navigation menu/bar, to view these opportunities:
The National Hemophilia Foundation (NHF) and the NHF Colorado Chapter has advocated for the needs and interests of people affected by hemophilia and related bleeding disorders for almost 60 years. In this role, we have educated elected officials and others in government about the unique needs of people with bleeding disorders. As a result of efforts at the federal level, millions of dollars in government funding has been used to improve medical care, services, education, and safety and surveillance of blood and blood products.
In 1998, NHF was instrumental in securing passage of the Ricky Ray Hemophilia Relief Fund Act, which provided compensation to individuals (and their families) who acquired HIV from contaminated clotting factor products. Since then, NHF's advocacy efforts have raised awareness of bleeding disorders, protected individuals from discrimination, and ensured full access to high-quality care.
On the federal level, NHF's annual Washington Days provides an opportunity for the community to come together to discuss key issues impacting access to care, learn about advocacy, meet with elected officials, and put a face on bleeding disorders. We continually monitor issues on the federal level and update our advocacy priorities as issues arise, such as ensuring funding for federal hemophilia programs and research, Food and Drug Administration (FDA) related issues including blood and blood product safety and protecting access to affordable, quality care and treatment.
Advocacy at NHF goes beyond Washington DC and Capitol Hill. The NHF Colorado Chapter, as well as other key stakeholder groups across the country, work to address community needs on the state and local levels. By uniting, mobilizing and leveraging our collective resources, we have made significant strides in impacting policies that affect the interests of people with bleeding disorders.
As on the federal level, we continually monitor issues on the state level for advocacy priorities purposes and examine how issues such as transitioning to managed care in state Medicaid programs, Medicaid expansion under the Affordable Care Act, and health care reform implementation (federal and state) impact the bleeding disorders community. Furthermore, we continue to work with state governments to establish standards of service to ensure quality of care for our community.
You can help us make a difference. Start right here by learning about critical issues facing people with bleeding disorders. Join us to raise awareness and promote the best practices and policies in your state.
Update 2/28/2022
Due to the ongoing crisis in the Ukraine, the Mayor has requested our BDAM tribute dates be moved to March 2-7 as the City and County Building remains lit Blue in support of the Ukraine until March 1st. Dates have been modified below to reflect this update.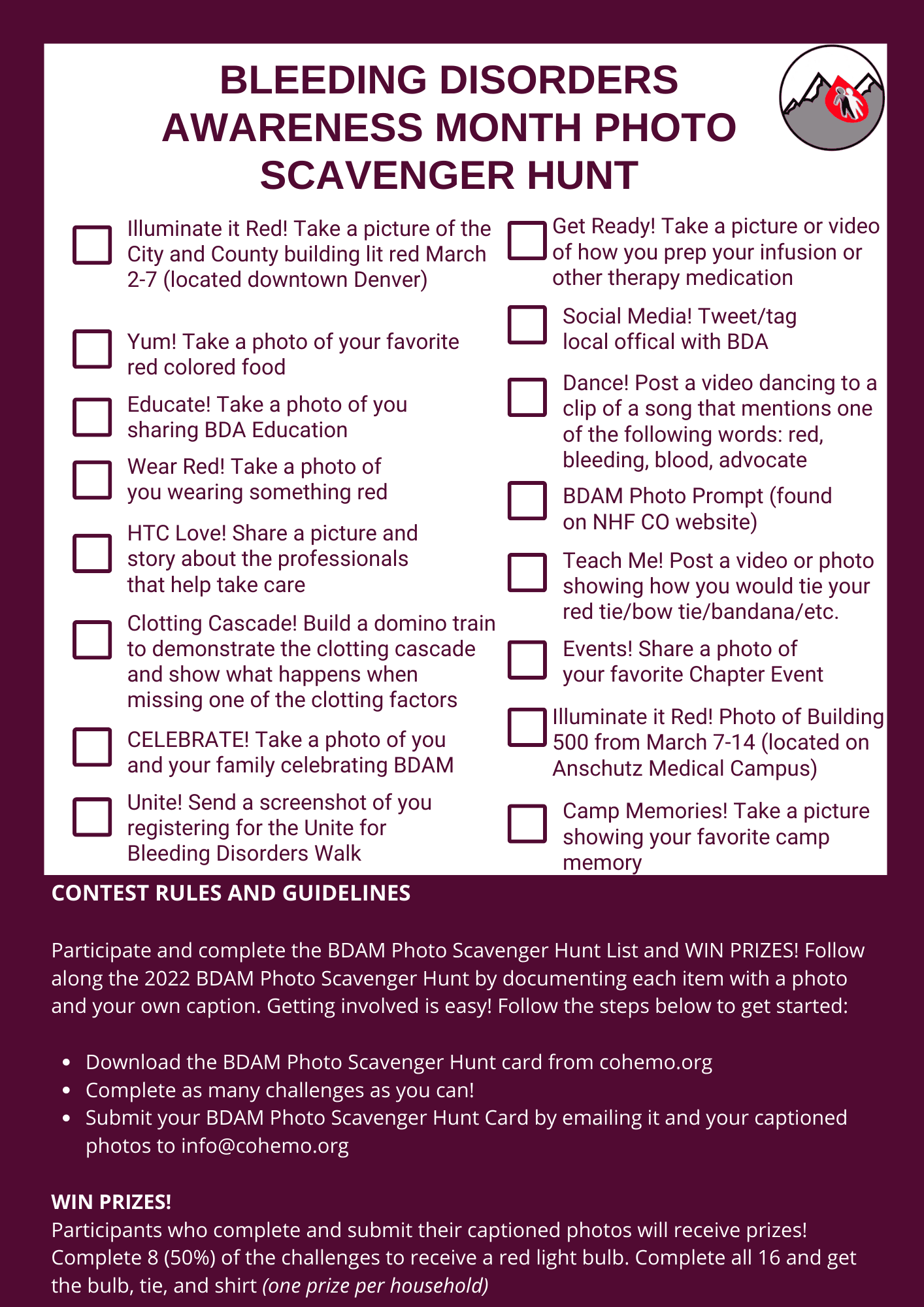 The Colorado Chapter of the National Hemophilia Foundation alongside numerous chapters across the nation and world celebrate March as Bleeding Disorders Awareness Month (BDAM). In honor of BDAM we invite you to "Start the Conversation" around issues and experiences related to inheritable blood or bleeding disorders during BDAM. As part of this year's Bleeding Disorders Awareness Month (BDAM), we'd like to challenge you to find examples in our communities of items or places that help raise awareness for bleeding disorders or impact your access to treatment.
Did you know that sharing your story and starting the conversation can make a huge difference? Here are a few examples that you can help raise awareness during BDAM.
·        Present Bleeding Disorders Awareness Information at your school district or place of work
·        View the City and County Building located in downtown Denver as it is lit red for BDAM
·        Attend the virtual Washington Days on March 1-2
·        Participate with Run Red to track your miles and raise awareness for BDAM
·        View Building 500 on the Anschutz Medical Campus (once the site of the former Fitzsimons Army Hospital)
·        Participate in-person at the State Advocacy Day on Friday, March 4
BDAM PHOTO SCAVENGER HUNT!
Participate who complete the BDAM Photo Scavenger Hunt List and WIN PRIZES! Follow along the 2022 BDAM Photo Scavenger Hunt by documenting each item with a photo and your own caption. Each photo challenge completed and submitted you will receive an entry to win the grand prize! Getting involved is easy! Follow the steps below to get started:
Download the BDAM Photo Scavenger Hunt card from cohemo.org
Complete as many photo challenges as you can!
Submit your BDAM Photo Scavenger Hunt Card by emailing it and your captioned photos to info@cohemo.org by April 1, 2022.
WIN PRIZES!
Participants who complete and submit their captioned photos will receive prizes! Complete 8 (50%) of the challenges to receive a red light bulb. Complete all 16 and get the bulb, tie, and shirt. (one prize per household).
Download your BDAM Photo Scavenger Hunt Card by clicking and downloading the image or at www.cohemo.org
RUN RED
 RUN, WALK, STROLL OR BIKE in celebration of Bleeding Disorders Awareness Month! Grab your friends and family and participate at your own pace, any place you'd like, any time you'd like during the month of March. Family Fun Run, Walk, and bike options available. This fully virtual event is happening March 1st-31st - this is an additional opportunity to become a champion for the bleeding disorders community. Funds raised will benefit the Colorado Chapter of the National Hemophilia Foundation (NHF CO). 
Run Red is a run or walk-at-your-leisure kind of event. Track your activity time on the Charity Miles App to participate in the fun.
The steps to participation are easy:
Register for the event at the top of this page, Register/Create Event (Entry Fees- $25/individuals; $35/families). Bonus: Sign up by February 28th to receive $5 off your registration!  
Customize your personal fundraising page that will be automatically generated for you during registration. Although fundraising is not mandatory, we encourage participants to support the inheritable blood and bleeding disorders community during this very special month. *There is no fundraising minimum for this event*
Track your miles throughout the month of March by downloading the Charity Miles app. Be sure to select NHF Colorado as your charity of choice and join the "Run Red 2022".  By creating a profile in Charity Miles, you can easily track your miles. (Great news: If you use the Strava app during runs, you can link your workouts/miles right into Charity Miles!)
From the ease of your own treadmill to your local trail, Run Red takes place anywhere you'd like, whenever you'd like! Funds raised will help support the Scholarship Program. Save the date to join us for the Unite for Bleeding Disorders Walk at Sloan's Lake on August 13th!
https://www.uniteyourway.org/index.cfm?fuseaction=donorDrive.team&teamID=5082