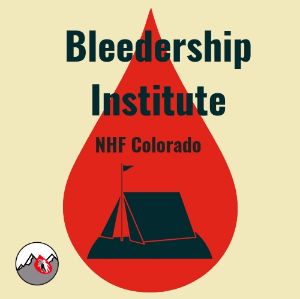 In 2019 the chapter proudly introduced the Bleedership Institute--a leadership development program available for community members interested in developing their team building and supervision skills in a camp setting. This year we are excited to expand upon the Bleedership Institute and expand the involvement to more than camp. 
2023 CAMP COUNSELORS NEEDED- APPLY BY JUNE 1, 2023
Individuals ages 18+ have the opportunity to attend camp once again – though this time as a leader. The Bleedership Program seeks to further build on the skills taught by Mile High Summer Camp. This will be achieved through offering a variety of leadership opportunities through being an independent co-counselor or counselor. Counselors must possess maturity, flexibility, a strong work ethic, and the ability to have fun! Bleedership Counselors have the chance to supervise campers, facilitate activities, and participate in camp. Serving as a Bleedership Counselor serves as a great resume builder for colleges and further employers.  
The Bleedership Institute is perfect for individuals interested in pursuing non-profit, work with children, or recommendations for internships/college programs. 
Please see additional information and pre-application below. 
Qualifications:
At least 18 years of age
Ability to independently take care of campers as a co-counselor
Ability to observe camper behavior, assess appropriateness, enforce safety regulations/emergency procedures, apply behavior-management techniques
Accept supervision and guidance
Creatively plan and facilitate assigned activities
Reports To: NHF Program Manager, Hanna Beary
Benefits:
Assist in developing and implementing new programs 
Stipend at end of the camp season
Assisting younger campers connect and take ownership of their bleeding disorder 
Job Responsibilities:
Serve as counselor in the cabin
Serve as a leader, supervisor, and role model
Fully participate in staff training, staff meetings, and other duties deemed necessary by the Camp Director
Help campers have a safe, empowering experience
Create and sustain a positive, nurturing, respectful culture for campers and staff
Efficiently seek assistance when confronted by a difficult camper, volunteer, or staff scenario
Plan, execute and evaluate activities that will enhance the self-esteem and success of each camper
Develop and enhance positive interactions between campers and staff
Develop goals and expectations with campers, and empower campers to problem solve to achieve these goals
Adhere to the policies and procedures of Mile High Camp and Rocky Mountain Village
 Instruct campers in emergency procedures (fire, severe weather drills)
Address behaviors that may affect the camper experience

Bullying
Perverse behavior
Fighting