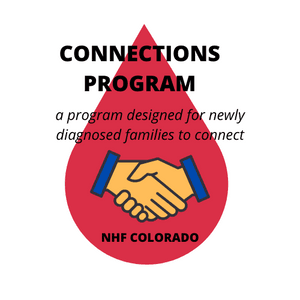 NHF CO Connections Program is designed to welcome and support newly diagnosed families of infants and young children with bleeding disorders with community connections and provide resources. 
A diagnosis of a bleeding disorder is often emotionally draining and overwhelming. Particularly due to the rarity of these disorders, there can be confusion, information overload, and a sense of isolation. We believe that the bleeding disorder community is stronger through community support and involvement.  
The Connections program is meant to alleviate the isolation and stressors that a newly diagnosed individual and/or family may undergo - not to provide any medical advice - but offer meaningful programs to connect you with other individuals and families within our diverse bleeding disorder community. We offer events that support peer-to-peer connections sharing our lived experiences, connecting and supporting each other.
If you'd like more information and want to stay in the loop on Chapter events, please complete the Consent to Contact form using the button below.