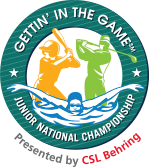 Gettin' In The Game Junior National Championship
November 5—7, 2021 Phoenix, Arizona
About Junior National Championships (JNC)
CSL Behing is inviting all bleeding disorders chapters throughout the United States to nominate up to two participants-each selected for either golf, baseball, or swimming. NHF Colorado wants YOU to represent Colorado!
Program Overview
Developed by CSL Behring, the Gettin' in the Game Junior National Championship (JNC) was the first and is currently the only national golf, baseball, and swimming competition designed specifically for the bleeding disorders community. The JNC features accomplished Gettin' in the Game Athletes, who themselves have been diagnosed with bleeding disorders, such as hemophilia and von Willebrand Disease.
During the program participants will have the opportunity to:
Take part in either golf, baseball, or swimming activities to learn the fundamentals and enhance their skills in that sport.
 Learn about the importance of physical fitness in managing a bleeding disorder and receive instructions on proper stretching techniques and good athletic form.
Show off their golf, baseball, or swimming abilities in a national competition with fellow participants from around the country.
Connect and build relationships with fellow members of the bleeding disorders community by sharing their personal experiences with one another.
Please review CSL Behring's COVID guidelines and protocols before applying!
CSL Behring's primary concern is for the health and welfare of attendees, both the child with a bleeding disorder, and the parent or caregiver attending with the child. Because CSL Behring is concerned about ALL attendees, we have set standards for participation in the 2021 JNC.If unable to abide by the following guideliens we ask that you do not apply.
CSL Behring will monitor participants' compliance with these safety protocols, and to protect others' safety, we will ask participants to leave the event if they do not comply. If parents and children arrive at the event and do not follow these standards, they will be asked to leave the event to protect the safety of others. While CSL Behring cannot guarantee that no attendee will be exposed to Covid or a variant, we are asking for cooperation in making the event as successful and as safe as possible.