Backpack + Bleeders: INDOOR CLIMBING CLINIC SERIES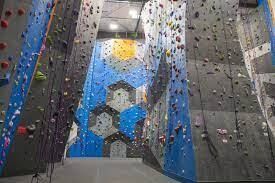 Trailblaze with Backpacks + Bleeders through this indoor climbing experience! Try a new skill or strengthen your current techniques at Movement Gym in Englewood for the first-ever Indoor Climbing Clinic Series! This series will take place every Friday, starting February 3 through February 24, with a new learning topic for each session. This 4-week series with the expert's from Movement Gym in Englewood. This is for participants with a diagnosed blood disorder, carrier, or caregiver of a minor with a blood disorder.
Week 1, Feb 3: Footwork  
Week 2, Feb 10: Breath  
Week 3, Feb 17: Center of Gravity  
Week 4, Feb 24: Arms and Hands 
There are 15 spots available for each week's climb, and we invite you to sign up for as many weeks as you can attend. This climbing clinic's purpose is to continue building on your developing skills and feel prepared to climb on your own after the 4-week series. At the end of the series, participants can sign up for a monthly membership with the initiation fee waived!